Miami Pro judging is taken very seriously. Judging is only based on how each athlete presents themselves on stage and their overall physic and appearance. There will be absolutely no favouritism tolerated within the judging panel towards any competitors. All judging is fair and without being biased, racist or any other form of discrimination. Miami Pro shows believe in and stand by fair judging and that the best athletes on stage should win no matter where they are from or who they may know.
All judging is done by score points, at the end of each round all scores are added for final placing of the top 6 athletes.
Miami Pro judges will also discuss the placing of athletes. Any athletes who are not happy with their placing can contact the judges for feed back.
Athletes are judged and scored on:
The athlete's stage presentation
How athletes pose, perform quarter turns and mandatory poses (mandatory poses are only for Figure & Bodybuilding)
Over all appearance (including hair, make-up, evenly applied tan)
Athlete's physique and body tone
Athlete's bikini/posing wear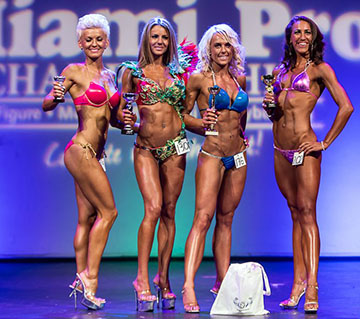 Judges are looking for:
A complete package
Athletes with a lean and toned body
An attractive healthy look that is marketable in the Fitness industry
The ability to pose on stage in flattering ways
Great stage presence and confidence
Bikinis/posing wear that suits the athlete and that shows off their best body parts
Eye catching Bikini/posing wear that suits the athlete
Evenly applied tan
WARNING!… Miami Pro takes fixing and favouritism very seriously, if there is any talk of favouritism with the Miami Pro judges from athletes on facebook or other social network sites, they WILL be BANNED IMMEDIATELY -without refund. We take it very seriously of any athlete making these false accusations. Any athletes publicly declaring of any fixing at any of Miami Pro shows will be NAMED & SHAMED and stripped of their title (if they place top 5). Miami Pro will not tolerate any athletes spreading rumours of fixing or favouritism just because they are unhappy with their results. There is no excuse for winning apart from hard work, discipline, and 100% dedication, athletes that win are all clear winners. Miami Pro is one of the biggest fitness competitions and athletes will be up against the best athletes, if you don't win, buy the DVD and photos and examine how to better and improve yourself.
Head Judge Angie Weston