Correct way to wear bikinis
Bikini fronts and bottoms
Fronts and bottoms are to be small (but not too small), if they're too big it will look like you're wearing nappies on stage. We mean no offense, but this is not a good look, and is neither attractive nor feminine. Judges will be marking you on your bikini. Make sure that it looks flattering and attractive. You are entering a top Fitness Modelling competition; don't cut corners on your bikini.
You will be marked down if you're bottoms are not worn correctly.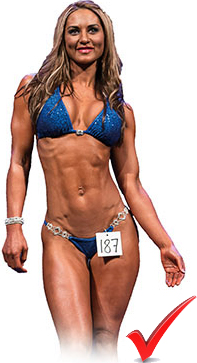 Bikini Straps
Bikini straps are NOT to be worn too low on the hips. Bikini straps that are worn too low are not flattering to the body. They shorten your legs and make them look thicker, and it also makes your waist look thicker. This is not the look for Miami Pro competitor. You will be marked on your bikini and how you wear it. This must be taken seriously.
Buy bikinis from LA DIVIA designs
---
Correct way to wear men's trunks/shorts
Men's trunks are to be similar style to trunks below.
Buy Fitness Model trunks from DANNY MIAMI