1 Round- Bikini round with T- Walk and quarter turns.
Who's it for?
The Fit mums category is for competitors who are mums and have a toned fit body with some muscle development to the upper and lower body. This category is perfect for those who want to show off that mums can still be fit, toned and sexy! Mums in this category must be in shape and have an attractive look and physique that is marketable in the fitness industry.
There is not one type of look that is preferred in this category but what suits the competitor and the overall package. Their physique should be lean with minimal body fat, but should not display significant muscle size, separation or striation. Abdominal definition can be visible but a ripped "six pack" is not to be visible.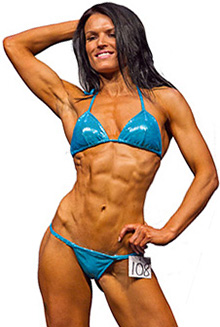 Bikini Round: (100%) Individual walk
Models will walk individually across the stage in a "T" style to three specific points, turning at each point (their own style) to show their personality and physique to the judges from multiple angles. Competitors are to show off their individual style and personality in this round and are encouraged to be creative in their walks and poses. This is your time to shine and to Wow the Judges & crowd! High heels are to be worn in this round.
For "T" walk diagram click here
Quarter turns
After models have walked on stage individually to show off their physiques, they will be asked by the Host to then line up at the back of the stage ready to do the quarter turns in a group. Models may be called out in groups of 4-5 to be compared for placing by the judges. After the quarter turns you'll be asked to leave the stage.
Note:
This is a model search competition and competitors in this category are to be relaxed but staying tight and maintaining good posture. Models should not appear as though they are flexing as in the Figure category.
What Judges are looking for:
A complete package.
Mums with a lean and toned body
An attractive healthy look that is marketable in the Fitness industry
The ability to pose on stage in flattering ways
Great stage presence and confidence
Bikinis that suit the competitor and that shows off their body
Eye catching bikinis
An evenly applied tan
You will be marked on:
Your physique and body tone
Quarter turns & posture
Stage presence and overall appearance
How you pose & conduct yourself on stage
Hair & make-up
Tan (if tan is evenly applied)
Bikini details
Female bikinis are to be a 2 piece bikini.
Bikinis can be of any colour, fabric, style and can be decorated with crystals or rhinestones. You should make your bikinis as interesting and as daring as you like.
Chose a bikini with colours, styles and patterns that flatter and fit your body.
No G-strings or thongs allowed.
There will be many photographers from fitness magazines and TV crew filming while you're on stage, so please remember to always smile!